The end is nigh. From 11 pm (GMT) 31 December 2020 the freedom of movement enjoyed for more than four decades between the UK and the EU will be gone.
So what will holidaying across the Channel look like for Brits from January 1 2021? We answer your questions.
Will my passport still be valid?
Anyone with a burgundy passport with the words "European Union" on the cover will still be able to use it as a valid travel document to EU countries but without any EU perks. To use it trouble-free you will need to have
six months' validity remaining from the date of travel AND
the passport must have been issued with the last nine years.
The latter may seem an odd stipulation but it speaks to the way the UK renews passports with up to an extra nine months on top of the usual 10 years.
The post Brexit status of the UK is demoted to a "third country" and strict rules apply. This means that passports that were issued with a life of longer than 10 years validity, thanks to the unexpired time from the previous passport being carried over, will be invalid after 10 years.
In effect, a passport issued on 30 June 2011 could show an expiry date of 30 March 2022. However, the same passport issued on 30 June 2011 is regarded by the EU as expiring on 30 June 2021  So A and any time beyond that will be deemed invalid.
Anyone travelling on New Year's Day 2021 will be asked to turn back if their passport does not comply. It is thought that tens of millions of passports that are valid for longer than 10 years are in circulation and this could cause problems and delays at airports and border controls.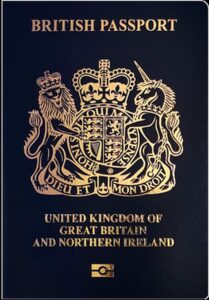 The passport will still be valid for use within the UK and non-EU countries around the world.
New passports will be issued the iconic blue covers used for UK passports before 1988.
What will it be like at passport control?
British passport holders will no longer be able to join the EU lanes (though popular destinations Spain and Portugal are considering special arrangements).
Border officials are obliged to check that your document is valid and to ask you questions about your reasons for travel and even how you intend to fund your stay – similar to entry into the US. This, of course, will slow down the entry process and increase queues.
How long can I stay in the EU?
As the UK is now a "third country", British travellers will have to comply with the "90/180 rule"
Both holidaymakers and business travellers can only stay 90 days (three months) in any 180 days (six months) anywhere in the Schengen area.
The Schengen area includes most of the EU countries except Bulgaria, Croatia, Cyprus and Romania. Ireland is also non-Schengen but is part of the Common Travel Area with freedom of movement to and from the UK and smaller islands.
To illustrate here is a scenario: you travel to the Schengen Area in March, April and May and leave before June 1, you then cannot return to the zone until August 31.
if you have already spent time in the Schengen Area in 2020 this won't interfere with your allowance in 2021. The allowance starts on New Year's Day.
To help you work it out the European Union has created an online  "short-stay visa calculator".
People who hold a work or residential visa for a specific EU country will be treated differently. There are different rules for  Bulgaria, Croatia, Cyprus and Romania and time spent in these countries will not interfere with your allowance in EU countries and will not count towards the 90-day total. Also, British citizens can stay as long as they like in the Republic of Ireland.
What happens if I overstay?
It's best to stay within the rules otherwise you face an entry ban for a year. It is likely though you will get a grace period of three days. For the sake of this rule, the Schengen is treated as one country, so you can't nip over the border and start the 90 days again. And yes they can check thanks to a central database. When you return, the frontier officials will check to see how much of your allowance has been used and remains.
Will I need a Visa?
There has been plenty of talk of a visa for Brits wishing to visit the EU. However, it hasn't come to pass. Yet.
On online visa "Etias" (European Travel Information and Authorisation System) will be in force. This will be similar to the Esta visa registration system British travellers use to apply for a Visa to enter the US.
What can I bring back?
There are restrictions as follows:
Alcohol: 4 litres of spirits or 9 litres of sparkling wine, 18 litres of still wine and 16 litres of beer
Cigarettes: 200 duty-free cigarettes.
Everything else: There is a limit of €430 – roughly £400 including cheese.
Incidentally. They do intend to check and if you are caught bringing in more than your allowance you will have to pay the whole tax.
Will I be able to use my EHIC card for healthcare?
The European Health Insurance Card (EHIC card) has meant that the elderly and those with pre-existing medical conditions could access local health care in the same way as the local. At the moment it seems the reciprocal health treaty is remaining in force. "For a period, yes, there will be appropriate access." said Micheal Gove on December 9 2020.
We will update when we know more but for now, it is safe to say that for people already abroad on December 31 the Ehic will still be valid until you leave.
Can I still drive abroad?
The EU symbol on your driving licence will no longer have an EU power but is still valid in the UK. The government says: "You may need extra documents from 1 January 2021. You might need an international driving permit (IDP) to drive in some countries."
In fact, you may need two. A 1949 IDP (valid one year) is required for Spain, Cyprus and Malta, while the 1968 version (valid three years) is valid everywhere else in the EU.
The IDP is available at larger post offices. Take your driving licence plus a passport photo and £5.50 for each permit that you need.
What do I need to know about my motor insurance?
From January 1 you will need a "Green Card" – an official, multilingual translation of your car insurance that demonstrate you meet the minimum cover requirements for the country you're visiting. You will need to plan ahead because this is likely to be free to obtain, your insurer will need around two weeks to process it.
Will flights be affected?
So far, it flights seem unaffected between  the UK and the European Union from 1 January 2021. This is what he transport secretary, Grant Shapps, says:
The government's priority is to ensure that flights can continue to operate safely, securely and punctually between the UK/EU at the end of transition period, regardless of the outcome of negotiations.

"Air travel is vital for both the UK and the EU in connecting people and facilitating trade and tourism, and we are confident measures will be in place to allow for continued air connectivity beyond the end of 2020.
What about cross-Channel transport such as Ferries, Eurotunnel and Eurostar?
All services are likely to operate as scheduled. The National Audit Office (NAO) warns that motorists taking their cars to France on ferries from Dover or Eurotunnel from Folkestone could face waits of up to two hours once the Brexit transition ends – and that queues could be "much longer" in summer.
Eurostar has already been disrupted because of the coronavirus pandemic. It's unclear how soon this will return to normal.
Mobile roaming and using the internet abroad?
The EU-wide ban on roaming charges for phone calls and internet will no longer apply leaving mobile companies freedom to bring back charges from January 1 2021. However, none of the big companies has indicated any intention of doing so.
If they should change their mind the government says it will cap the maximum for mobile data usage while abroad at £49 per month unless the user positively agrees to pay more.