Exploring Catalonia on a Budget
10 Best Things to Do in Barcelona on a Small Budget
What are the Cheap Things to Do in Barcelona?
There are many ways to enjoy Barcelona, even on a small budget. Exploring the city without spending much is possible and simply strolling through its most colourful neighbourhoods and most famous streets can be a great pleasure. This will give you a fantastic taste of this magical city and allow you to drink in its stunning architecture: both modern and Gothic architecture together with famous works from the 19th and 20th centuries by Gaudí and Miró.
Barcelona is also a city where you can simply pause on your strolls to enjoy numerous street performances – it's not unusual to see musicians and mime artists. Read on for some ideas on how travelling on a limited budget in Barcelona can save you unnecessary expenses during your visit to the capital of Catalonia.
1. Join a free walking tour
Immerse yourself in the city's history, at no cost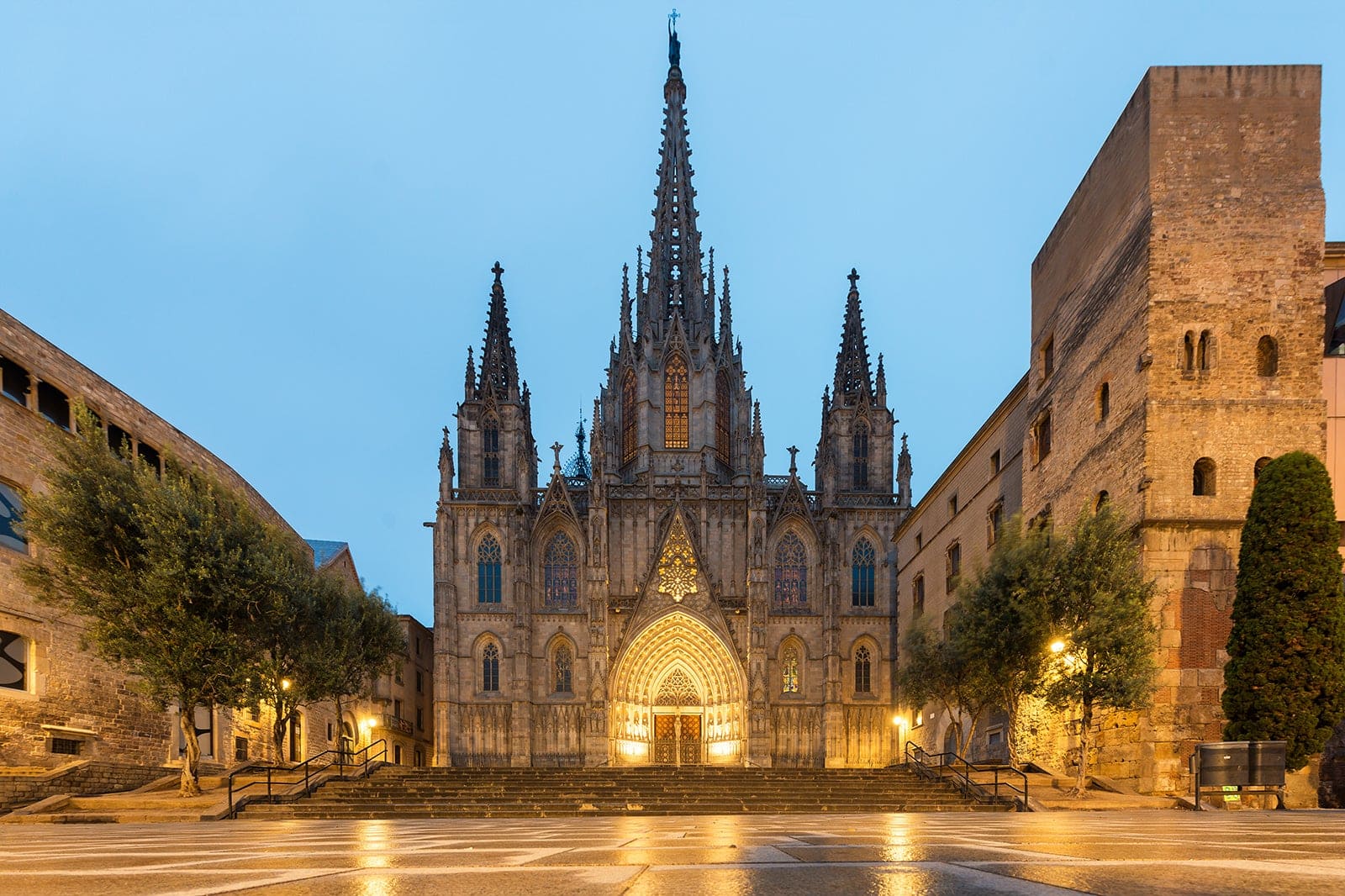 By joining a free walking tour in Barcelona, you can learn about the city's origins and visit places off the beaten track. A simple internet search will reveal a large number of companies and organisations that offer free guided tours of the city. Join the one you most fancy and discover Barcelona's history, with all its anecdotes, secrets and fascinating information that would be difficult to find out on your own.
For example, explore Roman Barcelona from the time of Octavius Augustus and visit architectural remains such as the old city walls, the column of Augustus's temple and the Roman aqueduct. You will also be taken through the narrow streets of the Gothic Quarter and visit the Barcelona cathedral. A tour usually takes 2 or 3 hours, so wear comfortable footwear and prepare to unravel the city's secrets.
2 .Gothic and El Born Quarters
Explore Barcelona's most picturesque neighbourhoods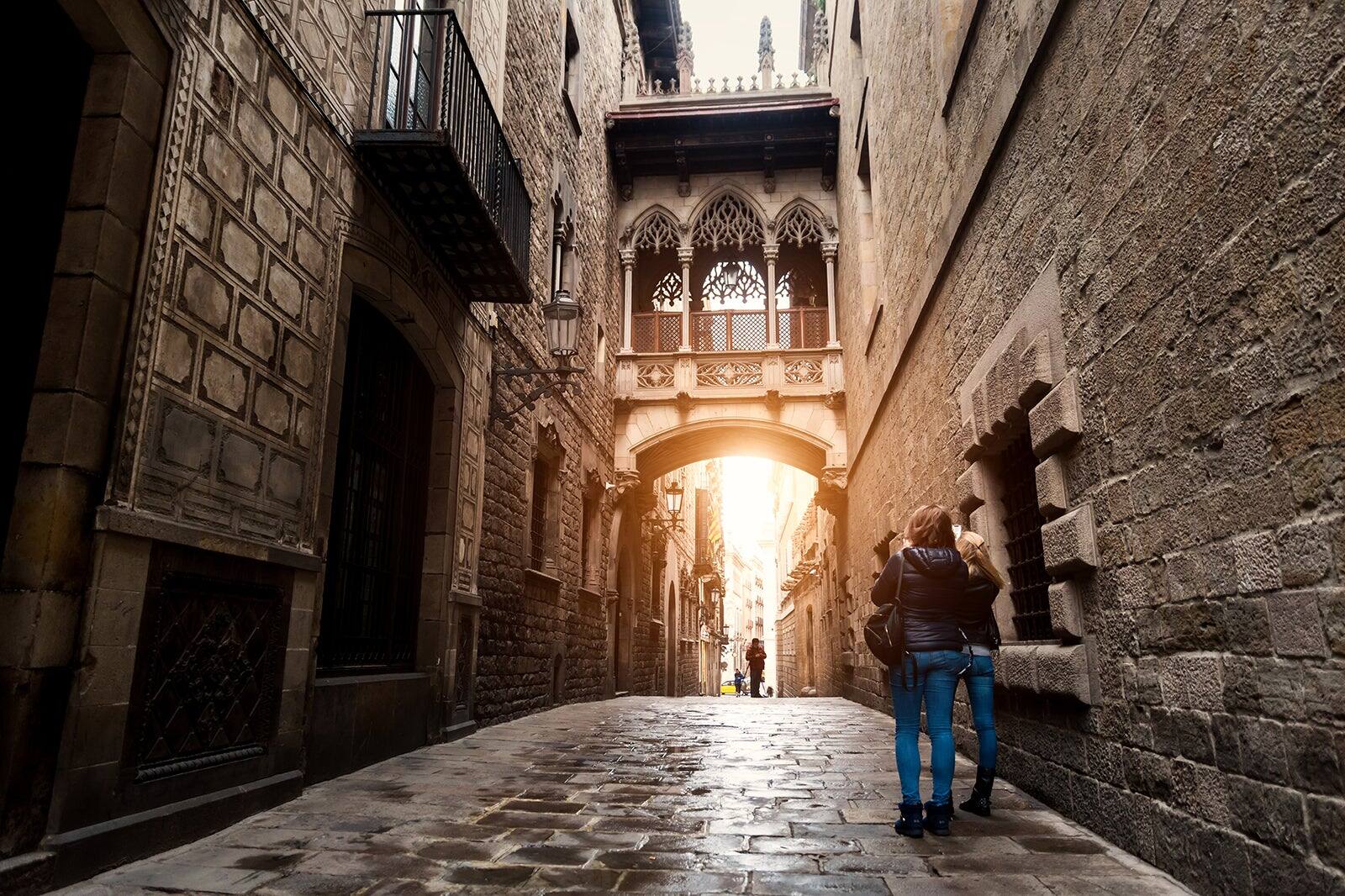 The Gothic Quarter is Barcelona's oldest neighbourhood. Wandering through its streets is like taking a journey back through time – medieval churches, brightly coloured street stalls and restaurant and bar terraces which are full to overflowing in summer. Here you will find the cathedral, Plaza Real, Plaza del Pi and the Museum of the History of Barcelona.
Crossing over Vía Laietana, you enter the El Born neighbourhood. Despite having an ambience that resembles the Gothic Quarter, El Born is more bohemian. It is full of great restaurants and charming shops and its streets are similarly labyrinthine, although a bit wider and tree-lined. Among its main attractions are the Mercado del Born market and the church of Santa María del Mar, made famous by the best-selling novel Cathedral of the Sea by Ildefonso Falcones.
3. Raval Quarter
Explore all corners of a neighbourhood that never sleeps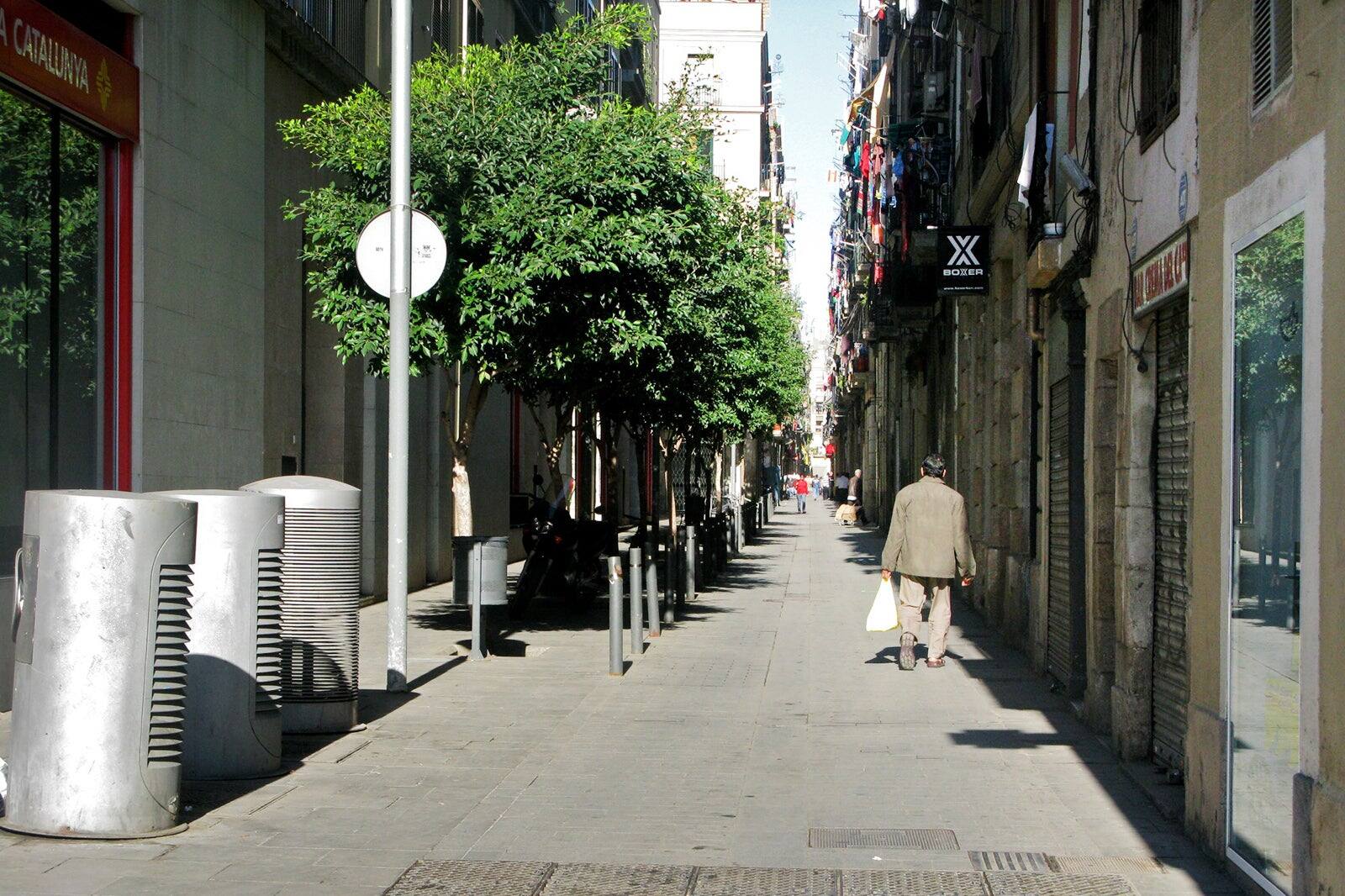 The Raval Quarter or El Raval is Barcelona's most multicultural neighbourhood that's on the right-hand side of La Rambla as you walk down toward the sea. Its name comes from the Arabic a-rabal, which means "on the outside", as this area was outside the city walls that used to surround Barcelona. El Raval is a historic, lively and authentic area. This is a neighbourhood that became famous for its numerous art studios and galleries, modern bookshops and Barcelona's two main modern art museums – the MACBA and the CCCB.
Getting lost as you wander around Raval's narrow streets has its charm as you discover small designer boutiques and bars with plenty of character. You can visit it at any time of day or night, as this is an area that seemingly never sleeps.
Location: El Raval, 08001 Barcelona, Spain
4. Montjüic
Discover the incredible views over the city and out to sea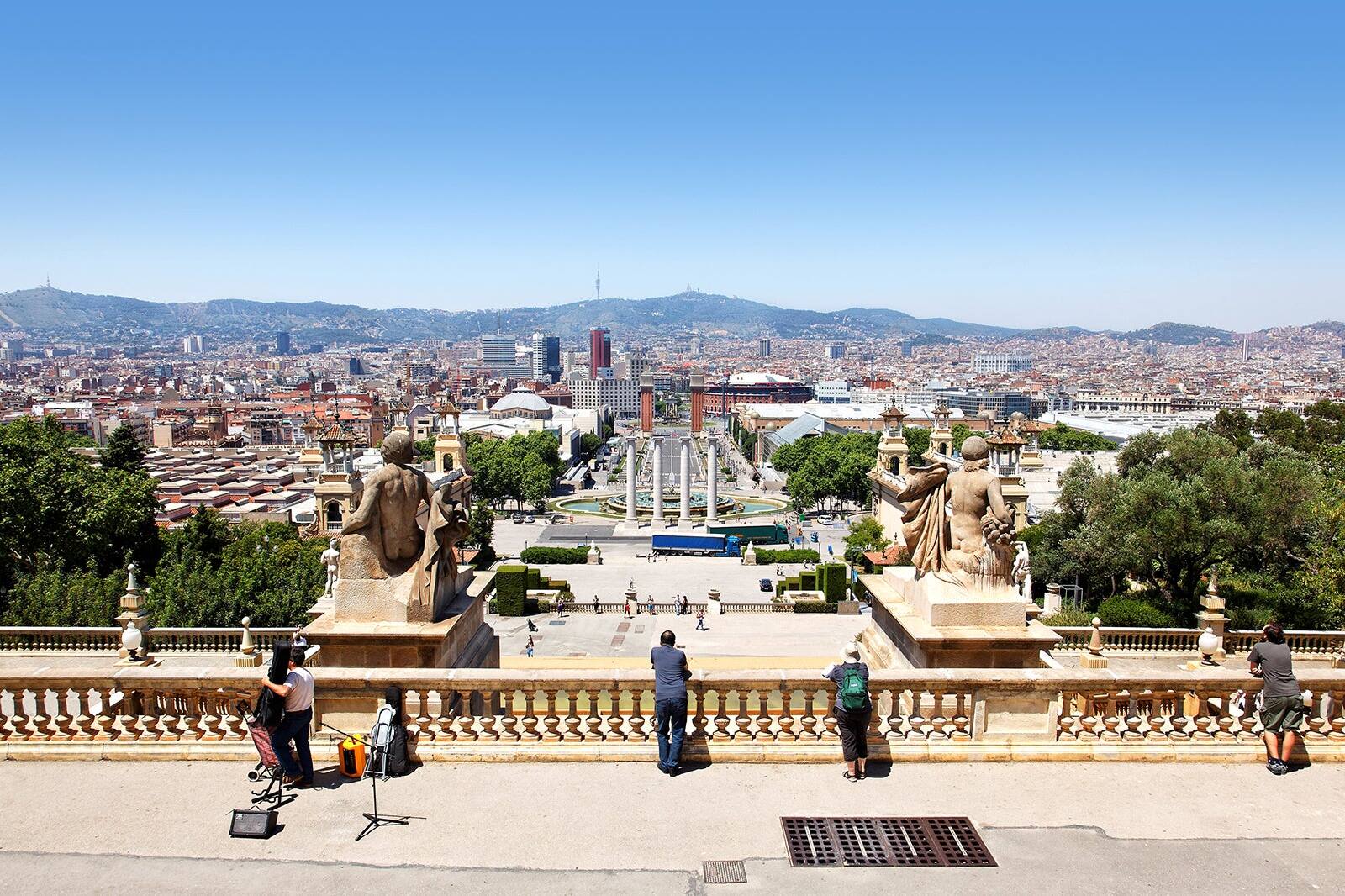 At the top of Montjuïc in Barcelona at 175 metres above sea level is a military fort that offers a panoramic view of the city. This is an area that often has free open-air concerts, allowing you to watch the sunset over the city as you enjoy live music.
As well as the spectacular views out over Barcelona, we recommend you visit the namesake castle, which houses a military museum and temporary exhibitions. You can get to Montjuïc by bus, on foot or by cable car from Avenida Miramar. If you choose the cable car, you will also have some incredible views of the city.
Location: 08038 Barcelona, Spain
5. Boquería Market
Explore a haven for gastronomes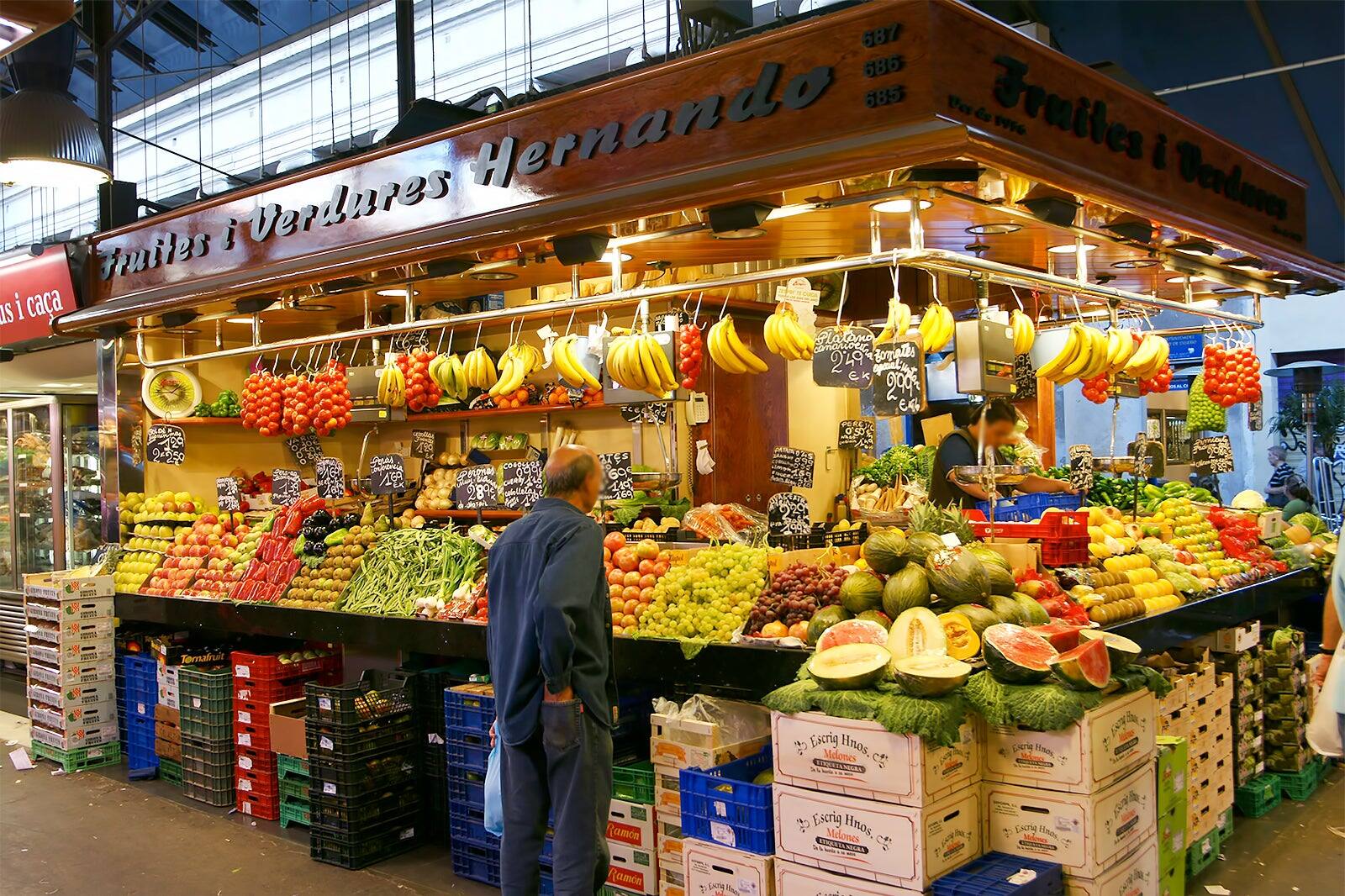 La Boquería is one of the most popular covered markets in Europe and an iconic symbol of Barcelona that you shouldn't miss on your visit to the city. Covering 2,500 square metres, La Boquería stands on the famous La Rambla thoroughfare, with over 300 stands which offer everything from local produce to hard-to-find exotic fare.
Gastronomes will love this market. As well as fresh fish, meat and fruit and vegetables, you'll also find stands selling takeaway food from all around the world. It also has bars where you can have a beer and restaurants in which you can enjoy the produce on sale here. However, just walking up and down its aisles you can enjoy the friendly atmosphere.
Location: La Rambla, 91, 08001 Barcelona, Spain
Open: Monday–Saturday from 8 am to 8.30 pm (closed on Sundays)
Phone: +34 933 18 25 84
6. Cathedral of Barcelona
Admire the pointed arches and other delights in its interior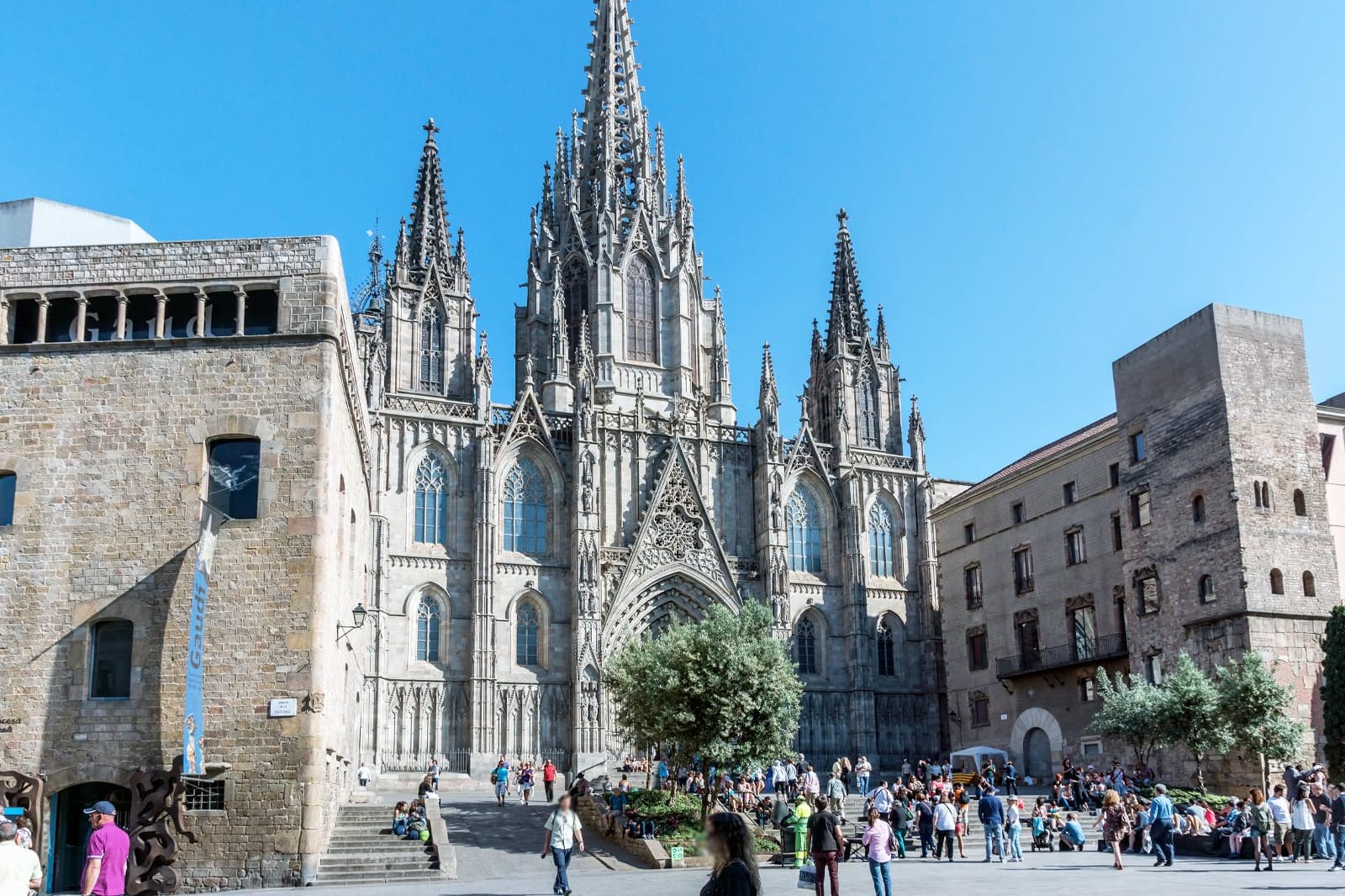 Work on Barcelona cathedral in the Gothic Quarter began on 1 May 1298 on the site of a previous Romanesque church. It took 150 years to complete. Around 3 million people visit every year, admiring its treasures. Among these are the splendid Gothic and Baroque altarpieces, the silver-gilt throne of King Martin the Humane from the 14th century, the magnificent ceiling keystones, the stained glass, the choir stalls, the baptistery and the tomb of Saint Eulalia.
The cathedral offers daily Mass, with Conventual Mass on Sundays featuring the famous Francesc Valls Chamber Choir. If you want to discover the hidden nooks and crannies of this magnificent building, guided tours are also available.
Location: Pla de la Seu, s/n, 08002 Barcelona, Spain
Open: Daily from 8 am to 12.45 pm, 1 pm to 5.30 pm and 5.45 pm to 7.30 pm
Phone: +34 933 15 15 54
7. La Ramblas
The city's most famous street, full of flowers, music and mime artists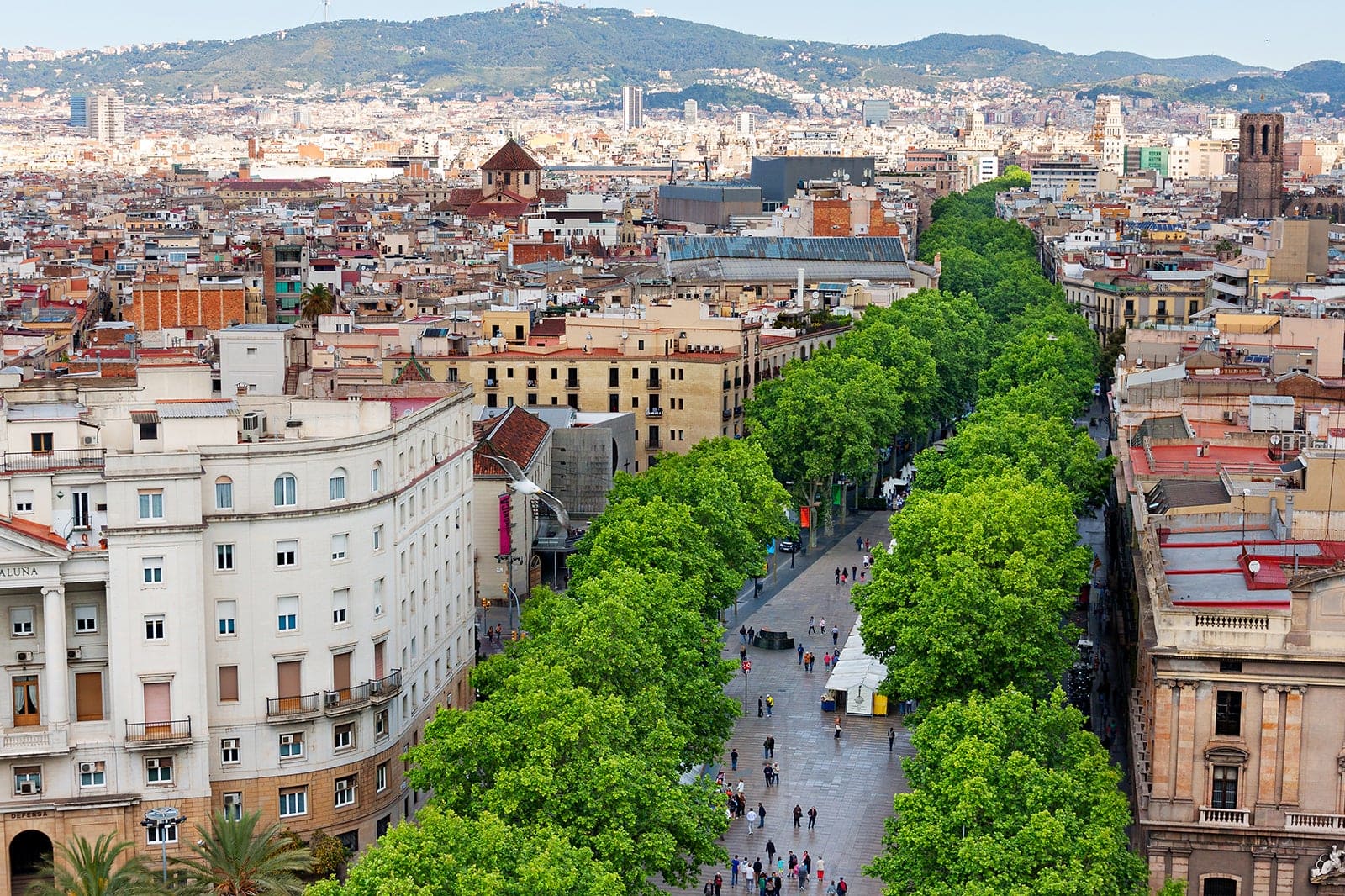 Strolling down Las Ramblas completes every visit to Barcelona. This is one of the city's main thoroughfares and one of its most famous landmarks. The street is always lively, spans 1,300 metres and connects Plaza de Cataluña to the old port of Barcelona.
At any hour of the day or evening, the street is full of street artists, flower stalls and visitors, many of whom are thankful for the numerous bars along the way where you can simply sit down for a drink and a rest. However, just walking up and down is an incomparable experience. Keep your eyes peeled – spot other notable landmarks such as the Teatro del Liceo, Palacio Güell and Plaza Real.
Location: La Rambla, 08002 Barcelona, Spain
8. Font Màgica de Montjuïc
An internationally known spectacle of light, music and water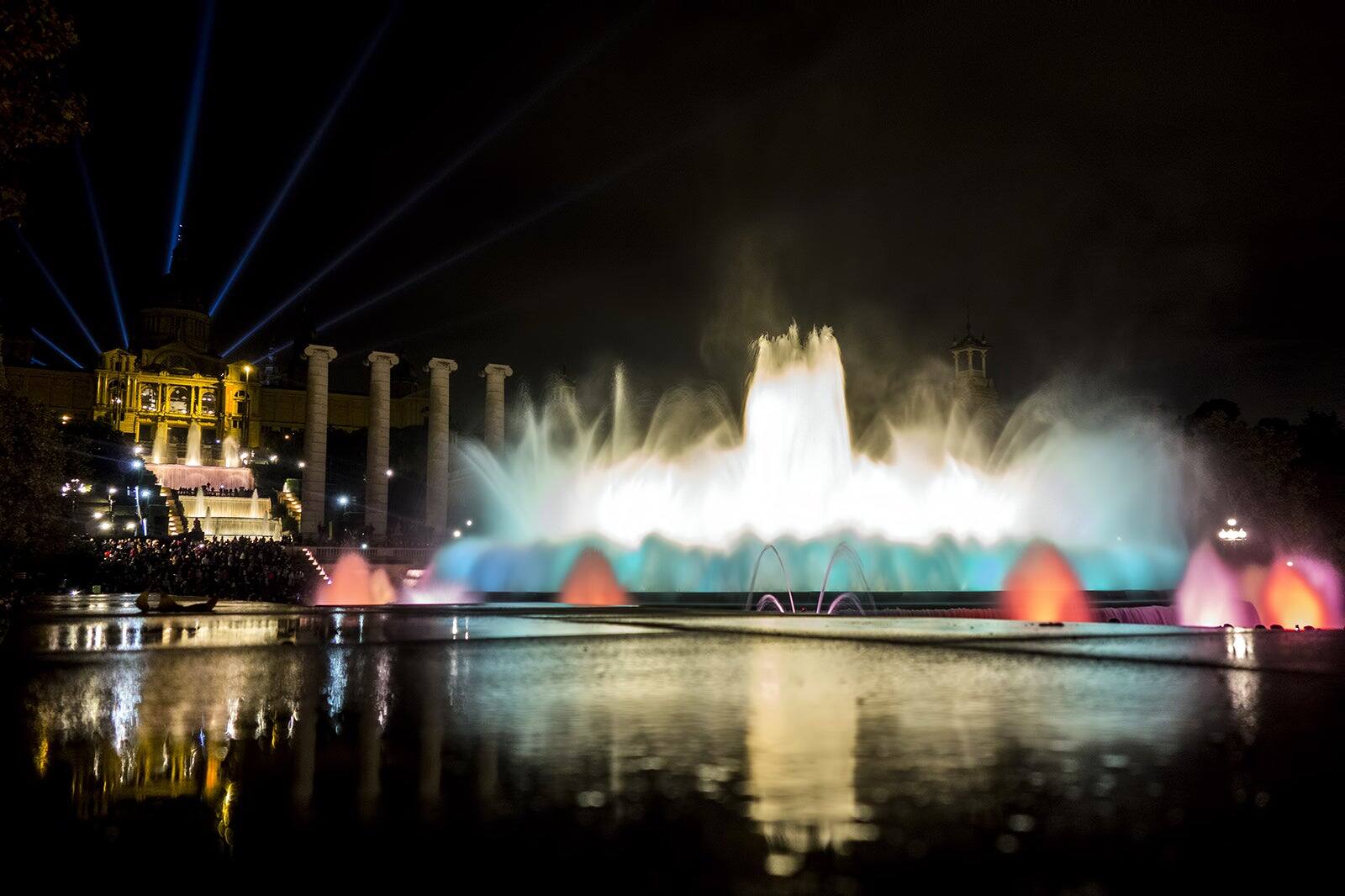 The Magic Fountain of Montjuïc, or Font Màgica de Montjuïc in the local tongue, is situated at the end of the Avenida de la Reina Maria Cristina and is one of Barcelona's most wonderful spectacles. Various nights a week, it is lit up with colours that create a choreographed light, water and music display that enchants everybody.
The installation has seven billion different combinations, making this a spectacle that is not to be missed. The fountain was built by Carles Buïgas for the 1929 Universal Exhibition and draws about 2.5 million visitors each year. Come to see the stunning display during your stay in Barcelona for free.
Location: Plaza de Carles Buïgas, 1, 08038 Barcelona, Spain
Open: Hours vary by season
9. Bunker del Carmel
Enjoy one of the best panoramic views of Barcelona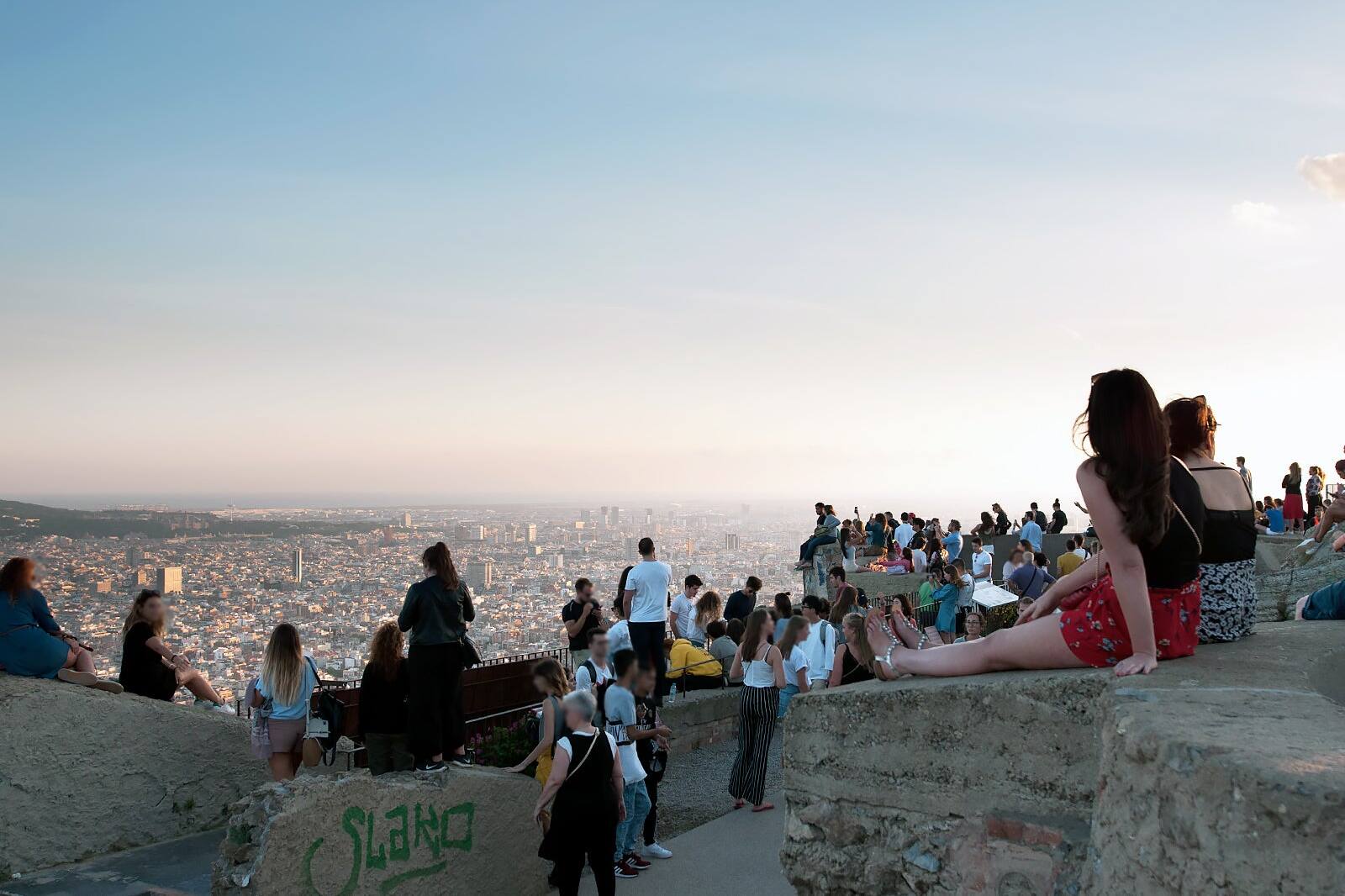 Bunker del Carmel or the Carmel bunkers on the Turó de la Rovira hill are an excellent lookout point from which to gaze down on Barcelona in all its splendour. As well as offering a stunning panoramic view and incomparable sunsets, this space also allows you to better understand first-hand an important part of the country's history – the Spanish Civil War.
This anti-aircraft battery was built in 1938 and installed to defend Barcelona from Italian air force bombers. From here you can go back 80 years in time, although the city skyline has changed an enormous amount since then. Look down on the Sagrada Familia and the Agbar and Mapfre towers and enjoy a spectacular sunrise or sunset, with the Mediterranean as the backdrop.
Location: Calle de Marià Labèrnia, s/n, 08032 Barcelona, Spain
Open: 24/7
Phone: +34 932 56 21 22
10. Passeig Marítim
Stroll along the promenade for fantastic sea views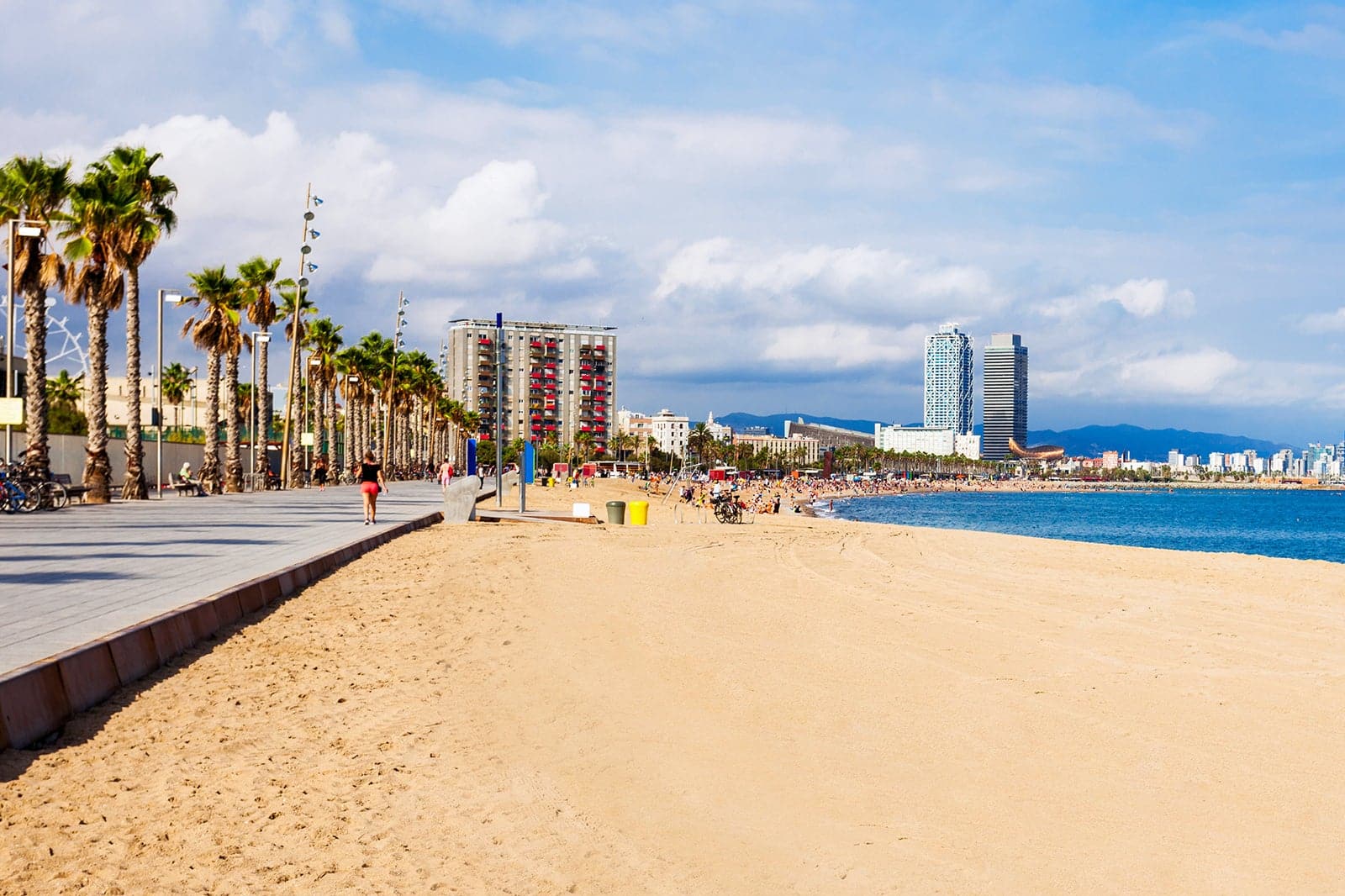 Strolling along the Passeig Marítim seaside promenade is one of the simplest but greatest pleasures in Barcelona. The approximately 4 km-long promenade stretches from Port Vell to the start of the Rambla del Poblenou. Your walk can begin or end with a paella and, in summer, a dip in the sea.
You can also cover the distance by bicycle – there are rental companies around. If you start in Port Vell, visit the monument to Christopher Columbus, the maritime museum or take a pleasure boat trip. In Barceloneta, don't miss the Hotel Vela and the Aguas tower. In the Villa Olímpica, or the old Olympic Village, you can see the Golden Fish by architect Frank Gehry and the Mapfre towers.
Location: 08003 Barcelona, Spain
10 Best Things to Do in Sitges
What is Sitges Most Famous For?
Set along the Mediterranean Sea, Sitges and its collection of charming whitewashed buildings make for a picturesque getaway. Less than an hour from Barcelona, the town offers a similarly lively seaside atmosphere but without the crowds. Regarded as one of Spain's favourite holiday destinations stretching back to the 19th century, Sitges is famous for its scenic beaches, cultural festivals and prominent gay community.
Across an array of historic galleries and museums, you'll discover how the town played an important role in the rise of the Modernist art movement. There's also a spectacular variety of Spanish and fusion restaurants, while a plethora of bars see locals and visitors socialising late into the night. Meanwhile, the long sandy beaches are simply unmissable. Here are our tips for getting the most out of your time in Sitges.
What are the best things to do in Sitges?
1. Sitges seafront esplanade
Take a morning stroll along this popular beachfront promenade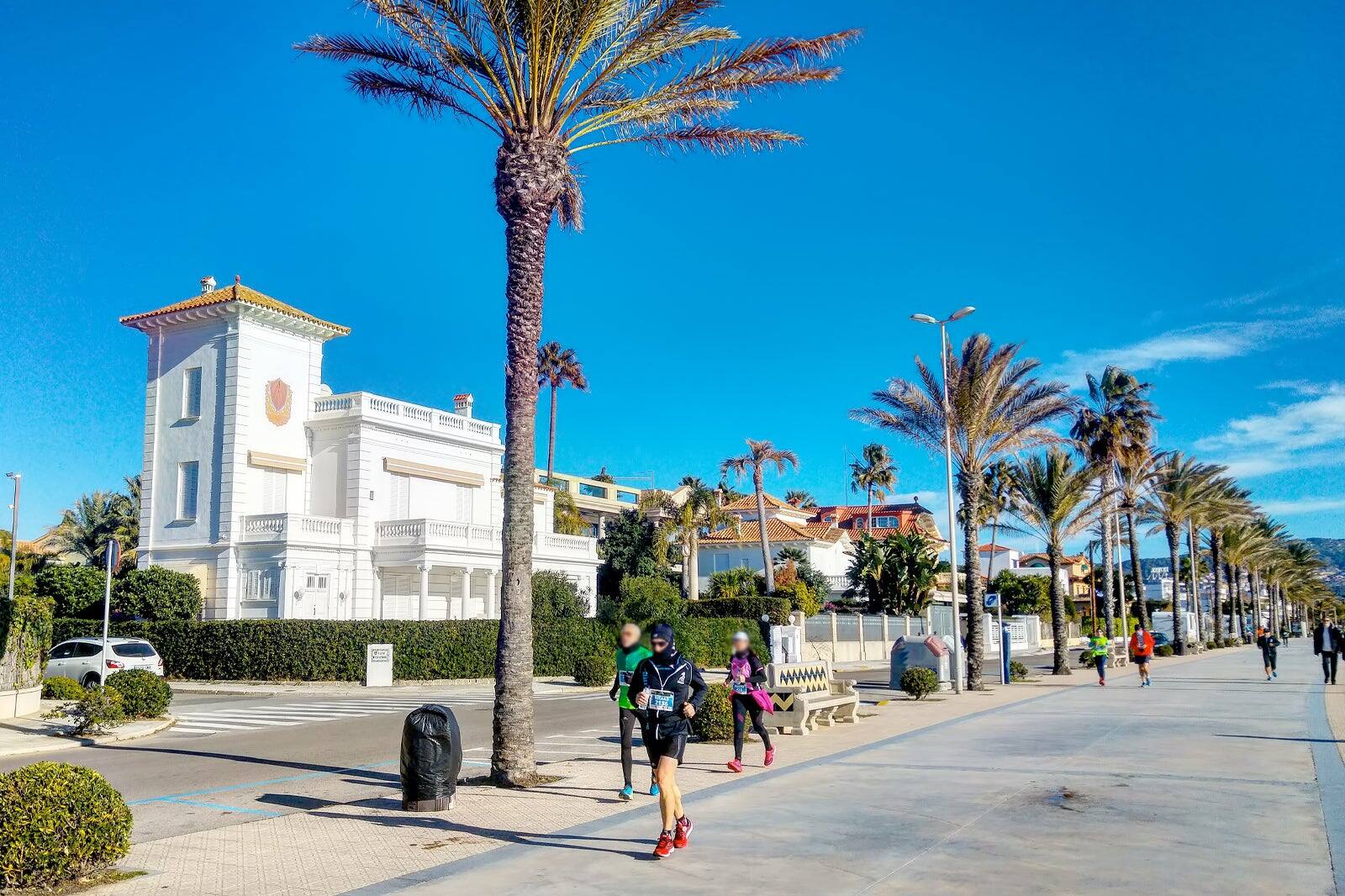 Passeig Marítim is Sitges' seafront esplanade, a great place to start the day before the sun gets too hot. Extending almost 3 km along the town's pristine coastline, wind your way from one end of town to the other, soaking up all the incredible vistas along the way.
As you pass from one beachfront to the next, you'll find a new offering of vibrant restaurants and bars. It's also a great chance to get your caffeine fix, as you enjoy Sitges' laidback atmosphere with a coffee in hand and a spectacular view to match.
Location: Passeig Marítim, 08870 Sitges, Barcelona, Spain
2. Church of Sant Bartomeu & Santa Tecla
Explore Sitges' ancient history at this striking church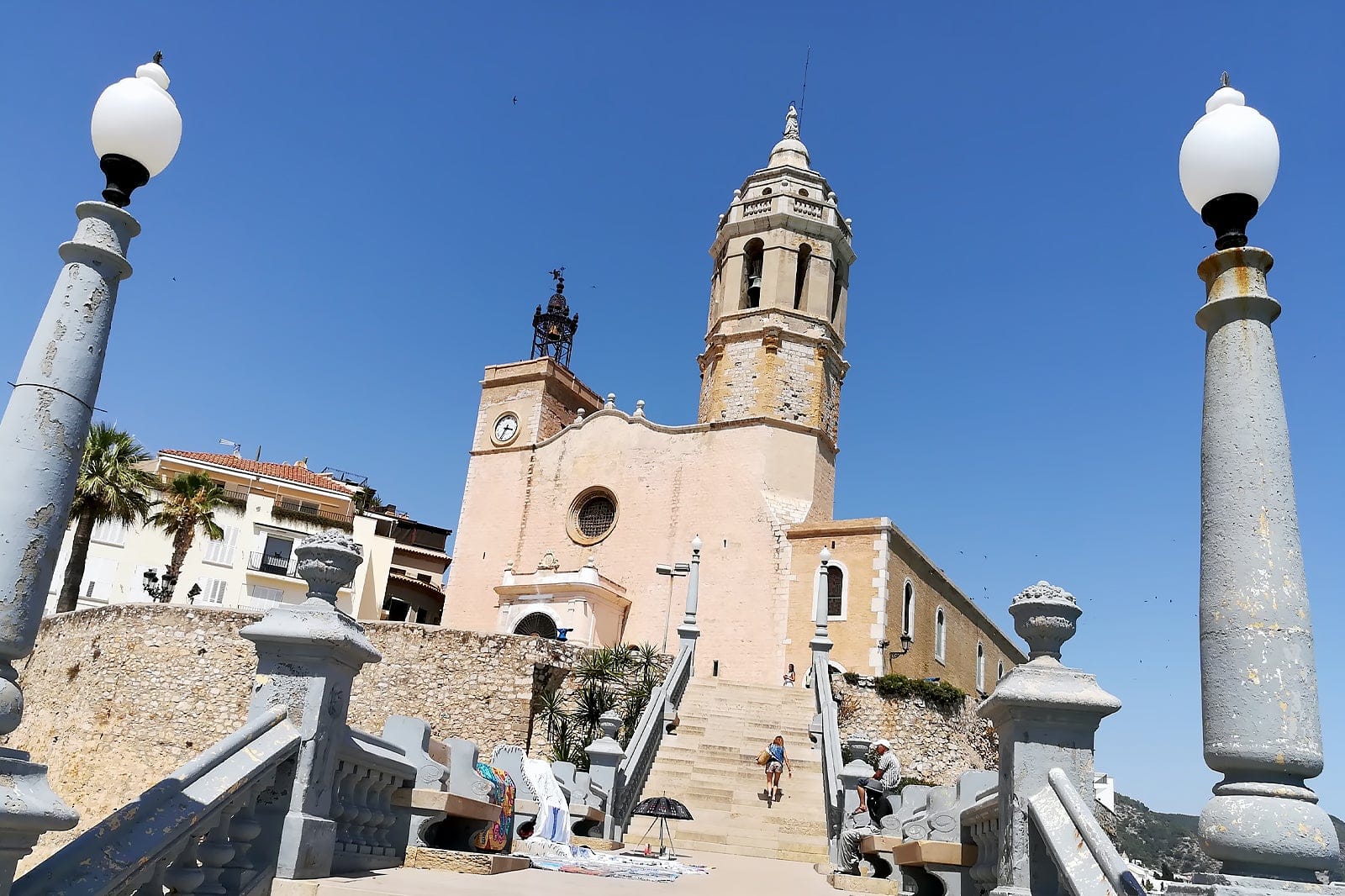 The baroque-style Church of Sant Bartomeu & Santa Tecla is one of Sitges' most impressive landmarks. The church is known locally as La Punta or 'The Point' and dates back to the 17th century. Once you ascend the long stairway, you'll be rewarded with a wonderful view of the nearby beach and surrounding town.
Tours of the church take place on the first Saturday of the month (May–October). These tours also include a special visit to the belltower where you'll get an even better view across the town. Behind the church, there's a busy maze of alleyways offering some delightful lunch spots.
Location: Plaça de l'Ajuntament, 20, 08870 Sitges, Barcelona, Spain
Phone: +34 938 94 03 74
3. San Sebastian Beach
Soak up the sun at one of the region's most popular beaches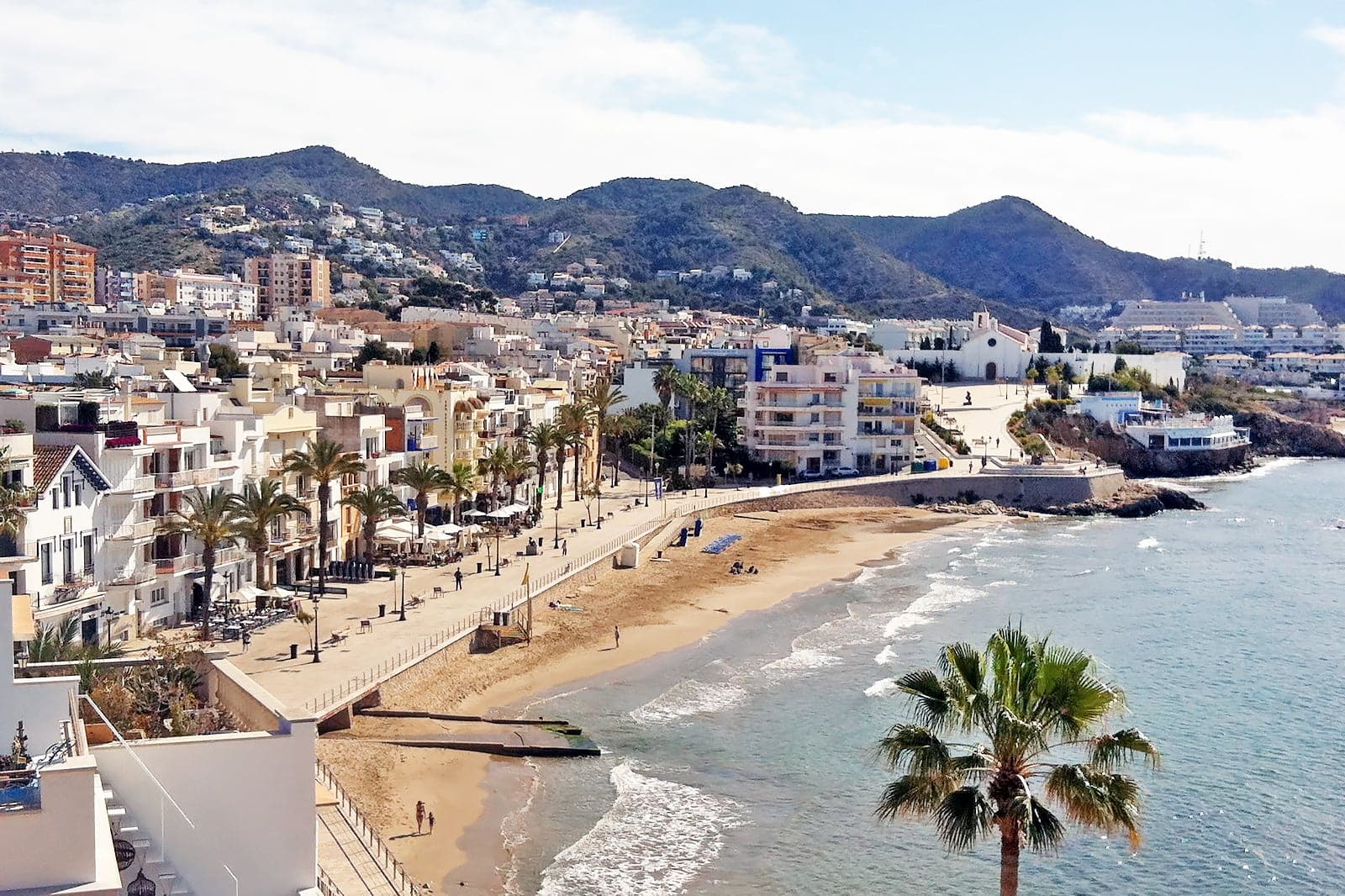 San Sebastian Beach is right between Sitges' old town and the port. Head beyond the eastern seawall and you'll arrive at the beach. Whenever the sun is shining, you'll find local families and groups sunbathing all day long. A favourite for its clean water and a charming beachfront bar, it's easy to find yourself relaxing here for hours.
Nearby, you'll come across a selection of popular restaurants and bars, which serve an eclectic mix of Spanish and international cuisine. Meanwhile, the surrounding hillsides offer a special vantage point to catch the setting sun.
Location: Carrer de Port Alegre, 45, 08870 Sitges, Barcelona, Spain
4. Sitges Carnival
Revel in a week-long event of glamorous festivities and parades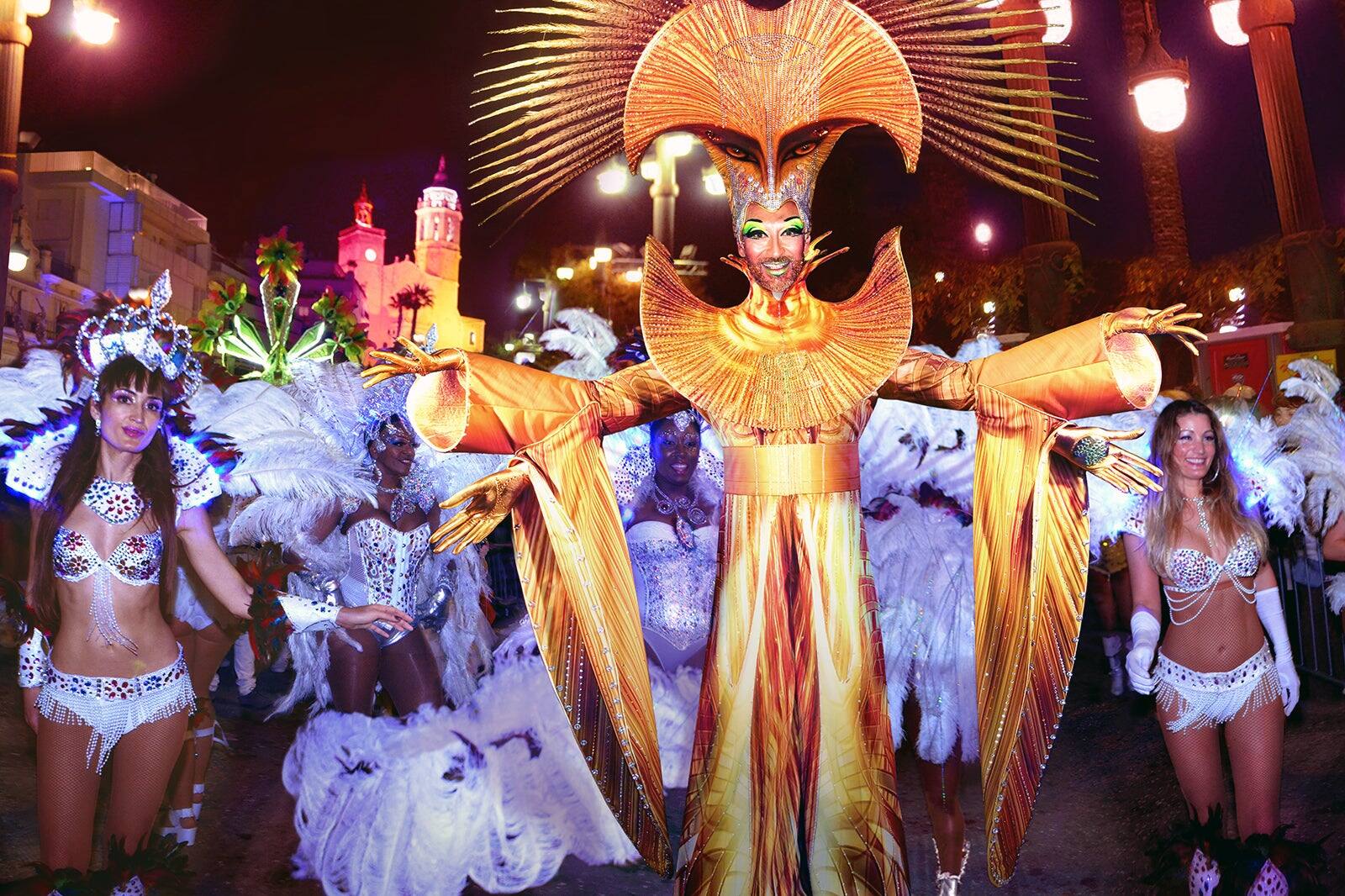 Sitges Carnival presents an eccentric showcase of floats, costumes and late-night parties. Held across 7 days in February, this vibrant festival attracts over 250,000 partygoers each year. The festivities kick off every year on what's known as Fat Thursday, with the King of Carnival being welcomed alongside colourful flourishes and live music.
As the week progresses, massive parades featuring more than 50 specially designed floats are joined by over 3,000 dancers. The whole town turns up for this annual event, making it the ideal time to visit if you're keen to experience Sitges' stellar reputation for parties and hedonistic nightlife.
5. Maricel Museum
Wander through this superb cliffside museum and take in the sea views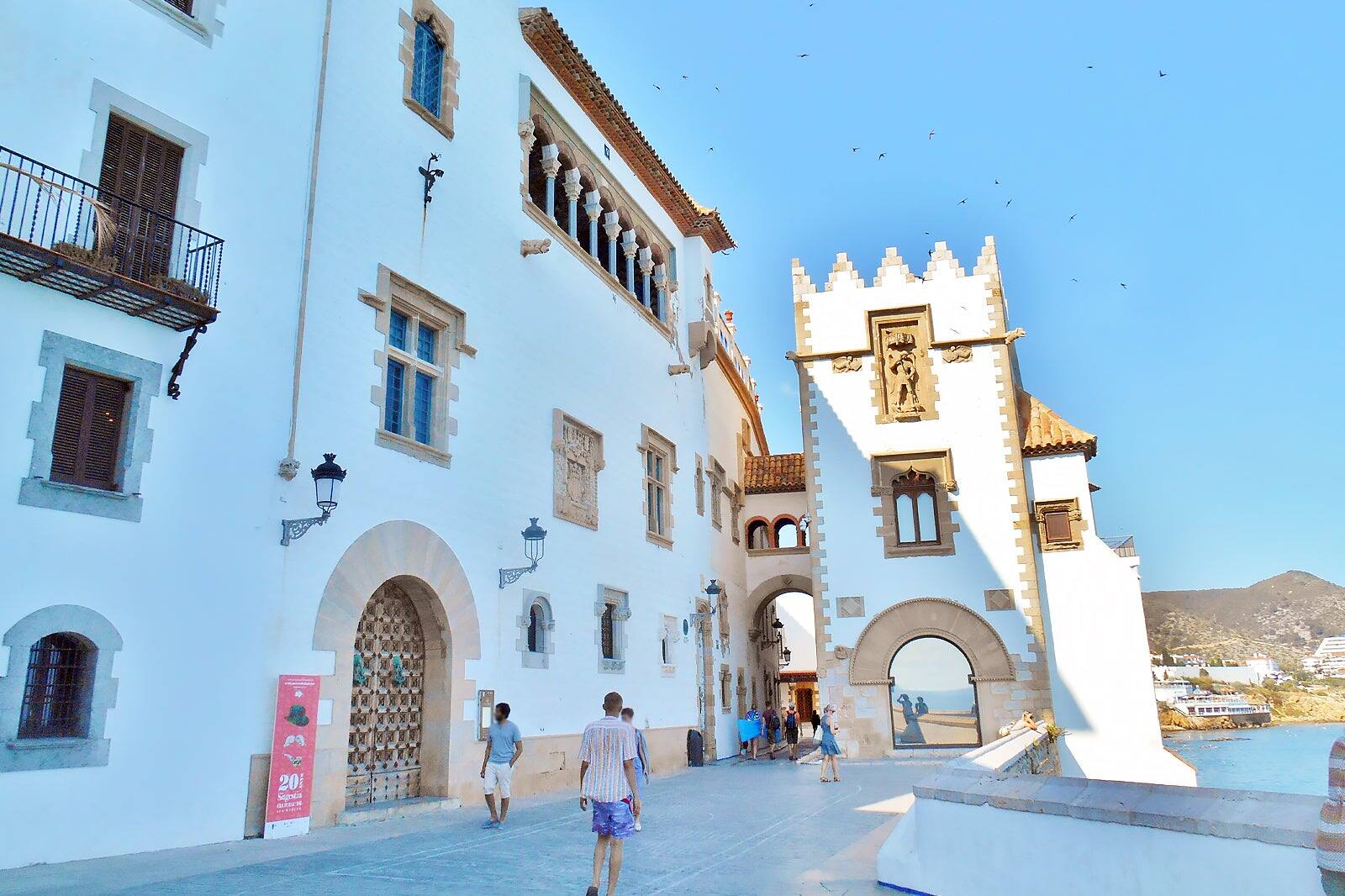 Museu de Maricel (Maricel Museum) is celebrated for its collection of works from the Luminism, Modernist and Noucentista art movements. Presented as a chronological journey through the various periods of art development, the exhibition begins in the Middle Ages before delving into the 20th century.
Restored between 1910 and 1918 by prominent engineer Miquel Utrillo, the Maricel Museum was originally built for American businessman and art collector Charles Deering. Set overlooking the sea, some of the views from inside the gallery are almost as good as the artwork.
Location: Carrer de Fonollar, 08870 Sitges, Barcelona, Spain
Open: Tuesday–Sunday from 10 am to 5 pm (closed on Mondays)
Phone: +34 938 94 03 64 ext. 1
6. Cau Ferrat Museum
Get up close to artwork by many of Modernism's most celebrated artists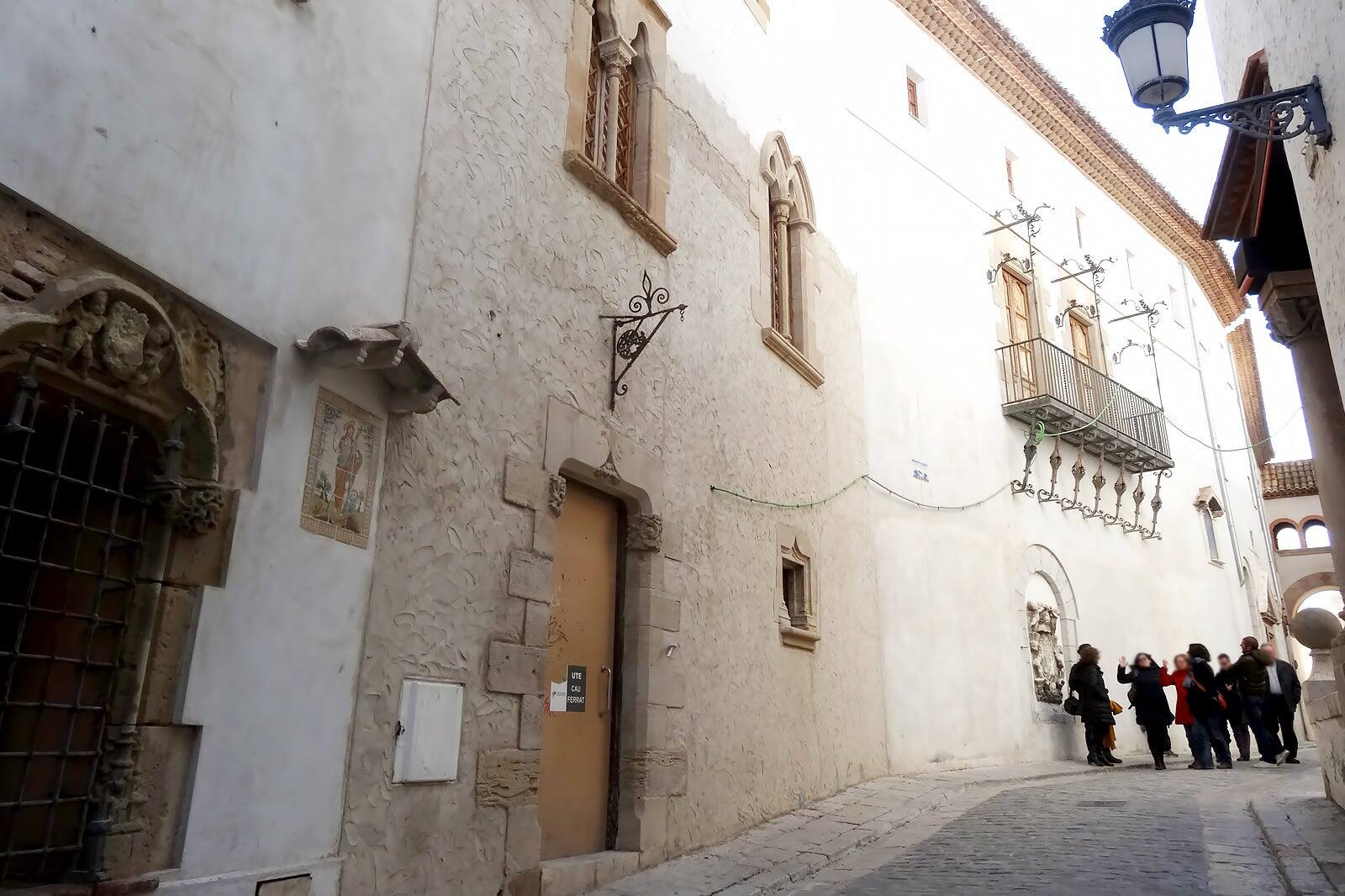 Museu del Cau Ferrat (Cau Ferrat Museum) was founded in 1893 by artist and writer Santiago Rusiñol. The museum reveals his enduring legacy through its art collection. Situated in the same complex of galleries as the Maricel Museum, Cau Ferrat was once Rusiñol's home and art studio, where he hosted artists from across Europe. Collaborating with these artists on exhibitions and performances, Rusiñol helped transform many of the surrounding fishing towns into dynamic cultural destinations.
The Cau Ferrat Museum was revamped in 2014, offering an outstanding collection of painting, drawing, sculpture and glasswork. Featured artists include the likes of Rusiñol, Ramón Casas, El Greco, Ignacio Zuloaga and Pablo Picasso.
Location: Carrer de Fonollar, 08870 Sitges, Barcelona, Spain
Open: Tuesday–Sunday from 10 am to 5 pm (closed on Mondays)
Phone: +34 938 94 03 64 ext. 1
7. Casa Bacardí Sitges
Discover the secrets behind one of the world's most popular brands of rum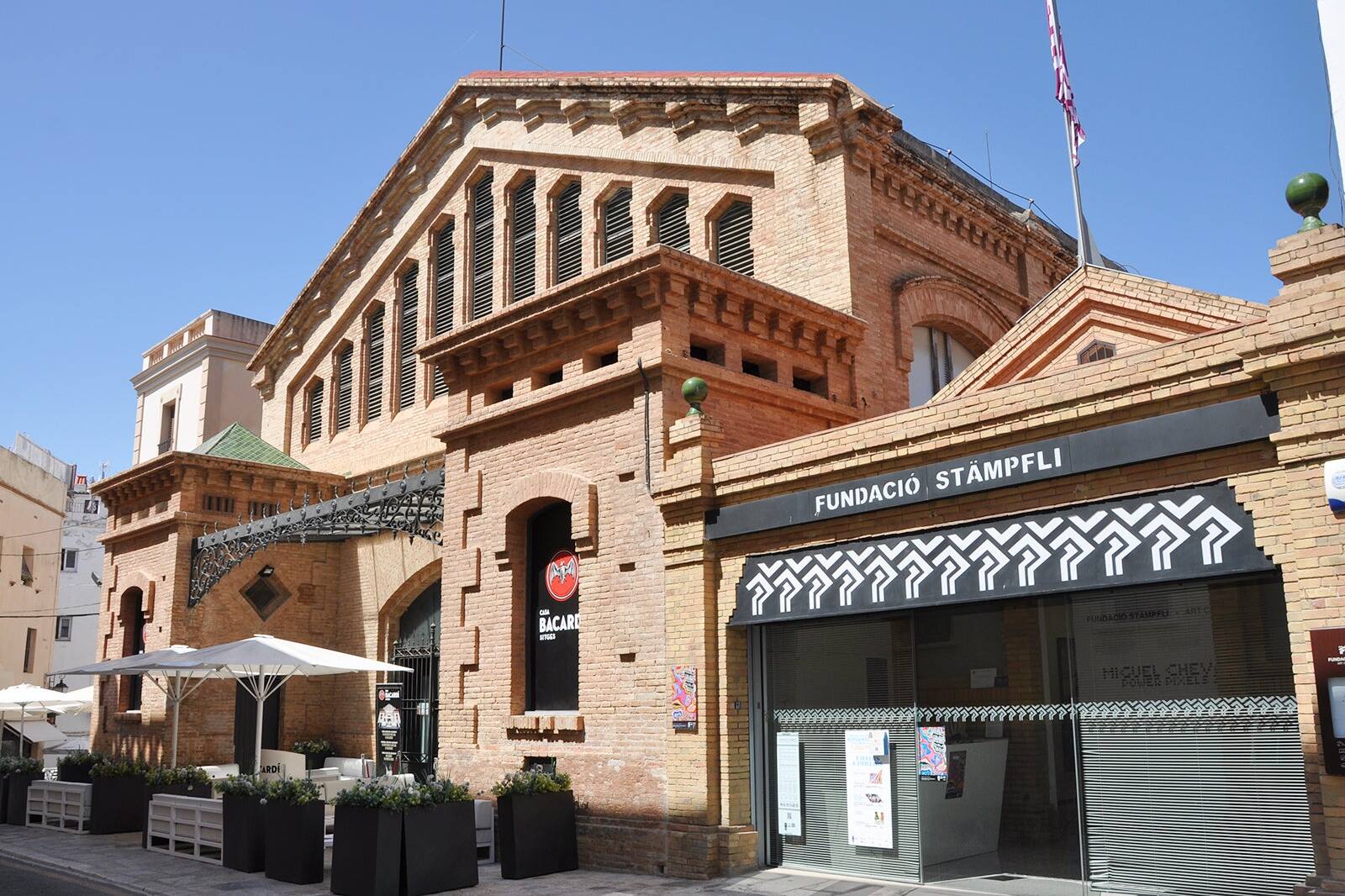 At Casa Bacardí Sitges, you'll gain incredible insight into a world-renowned rum brand's storied history. Bacardi Rum might have been created in Cuba, but founder Facundo Bacardi was proudly born and raised in Sitges. Designed by celebrated 19th-century architect Gaietà Buigas, the Casa Bacardi Sitges' Modernist structure has been renovated into a series of chic bars, galleries and distillery rooms.
The Heritage Room and Production Process Room recount Bacardi's beginnings as a small-time operation before it grew into a household name. There are multiple daily tours in English, plus a range of cocktail-making classes. You can enjoy a cocktail in the lounge or on the terrace.
Location: Plaça de l'Ajuntament, 11, 08870 Sitges, Barcelona, Spain
Open: Wednesday–Sunday from 12 pm to 2 pm and from 3 pm to 8 pm
Phone: +34 938 94 81 51
8. Garraf Natural Park
Explore geological sites on foot or bicycle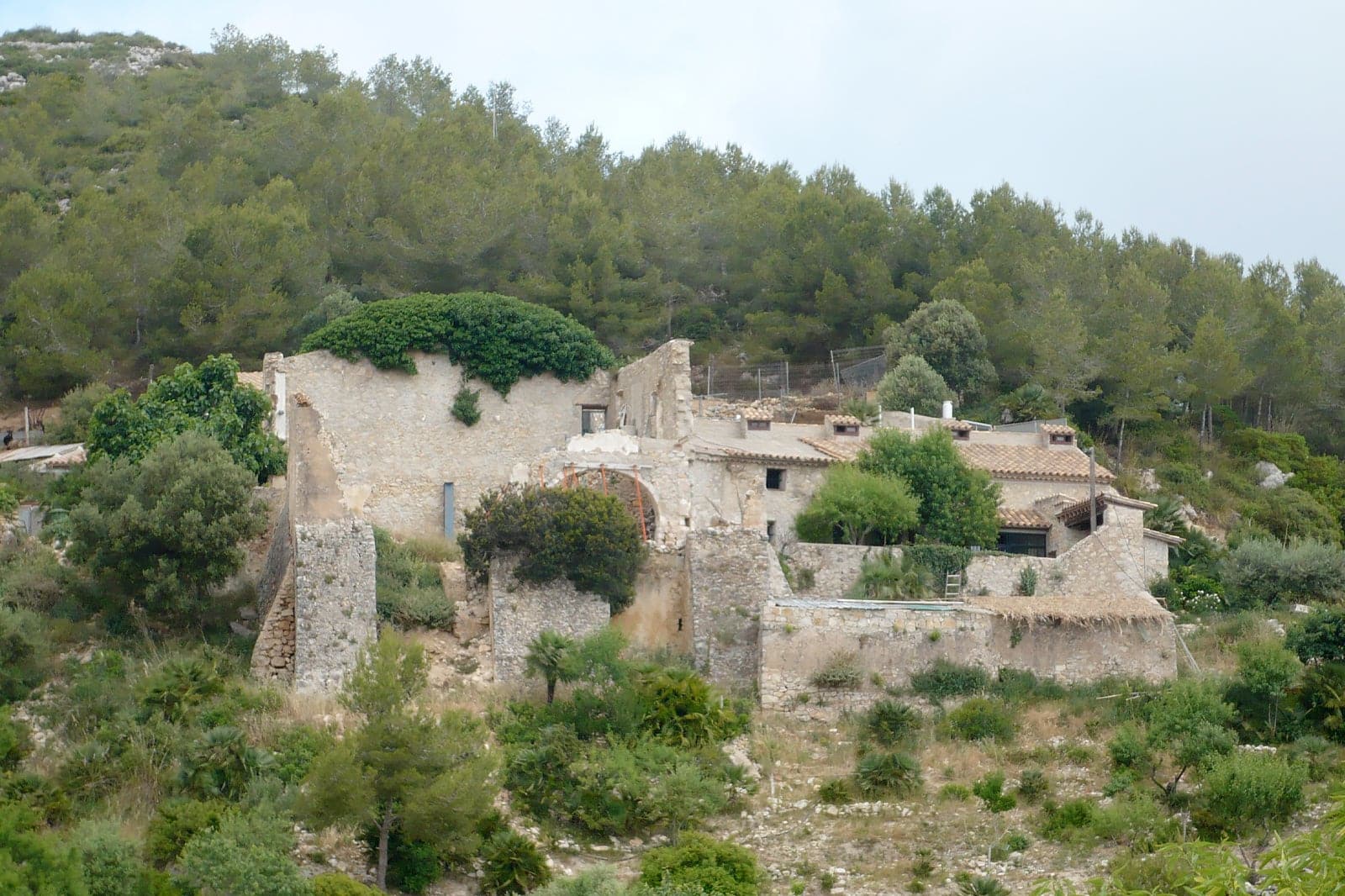 Parc del Garraf (Garraf Natural Park) is just up the hills of Sitges. The picturesque landscape along the way is great for a day trip from Sitges, with many of its walks easily completed within a few hours. Spread across 12,820 hectares, the park offers a diverse range of geological sites to explore, as chalky rocks give way to red sandstone along the eastern border.
It's possible to visit on foot or by bicycle, as there are guided trails along the coastline or up into the hills and abandoned villages. One particular highlight is the Buddhist monastery occupying a former Modernist mansion named Palau Novella. It was reopened in 1996 as Catalonia's first Buddhist community.
Location: Carretera de Ratpenat a, Carrer Plana Novella, Km 3, 08870 Sitges, Barcelona, Spain
9. Sitges-style rice
Don't miss your chance to eat like a local with this special paella dish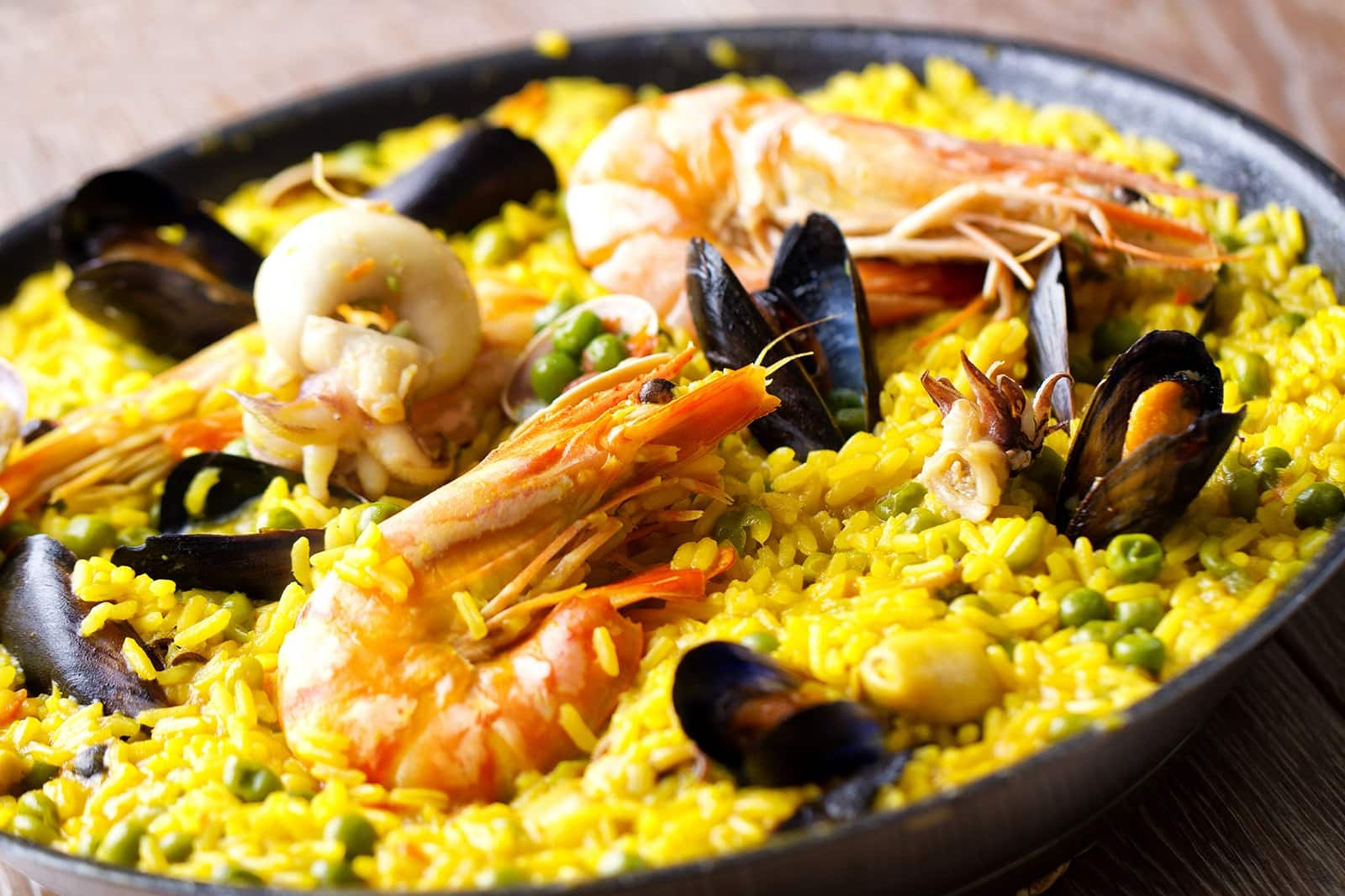 Owing to its prime coastal setting, it's no surprise that Sitges' most popular local dish comes from the sea. Known as arroz a la Sitgetana, this meal combines local meat and vegetables with fresh shellfish and a bed of rice. Get the full experience by pairing the dish with a type of dessert wine called Malvasia de Sitges.
Enjoyed by generations of Sitges residents, the history of arroz a la Sitgetana can be traced back to centuries. It was rediscovered by 19th-century writer Emerencia Roig I Ravento, who published a book on Sitges' provincial dishes that have been passed down through stories and traditions.
10. Plaça del Cap de la Vila
Find great cocktails and tapas in the centre of town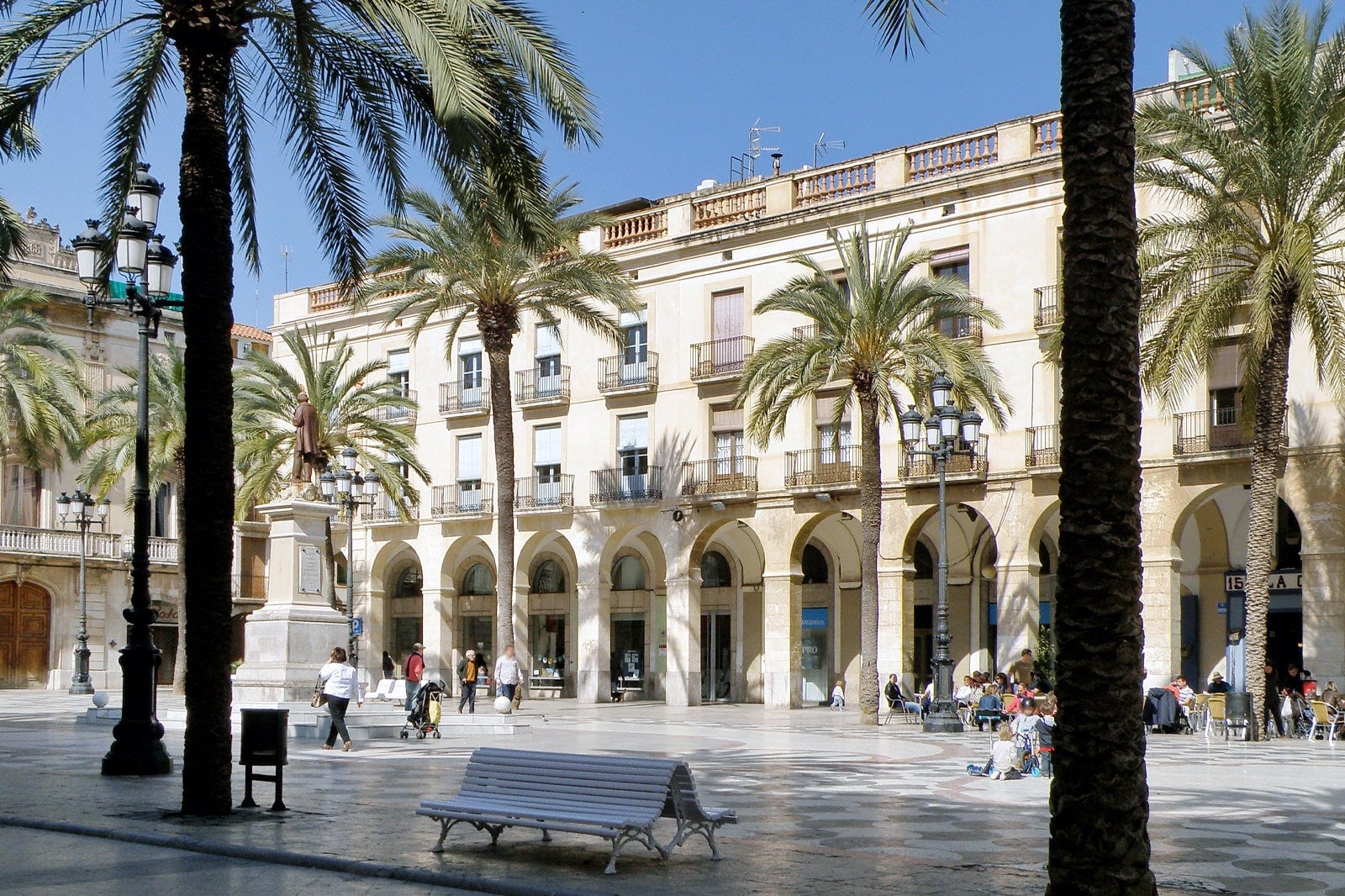 Sitges is renowned for its spirited nightlife and cocktail bar scene, with almost every street in the town centre featuring some top-notch places to drink and dine. The main square of Plaça del Cap de la Vila is where you'll find some of the best.
Featuring a rich variety of colourful cafes and bars, the area bustles with tourists and locals alike. Some of the nearby highlights include the cocktails at El Gin Tub and the fresh tapas served at NeM.
Location: Plaça Cap de la Vila, 08870 Sitges, Barcelona, Spain