Mondrian Doha, Qatar
The Mondrian Doha is a dreamy hotel created by Marcel Wanders that, just like its creator, surprises and delights at every turn.
The 4-year old Mondrian hotel was designed by the iconic Dutch designer Marcel Wanders. If he intended to combine the fantastical dreaminess of Alice in Wonderland with an Arabian Nights vibe, then in my mind, he has achieved this. I certainly felt like Alice exploring the otherworldliness of the two lobbies and the frozen forest and was indeed surprised and delighted at every turn.
The wonderment started with the stunning Arabian falcon exterior, the national bird of Qatar. Stepping into the foyer, I  fixated on the enormous golden tree of life straddled by giant white columns with golden eggs. It took the security guard several attempts to get enough of my attention to get me to hand over my bag for scanning.
Then, a black spiral staircase looks spectacular against a white background. It rises four stories high and yet leads nowhere. However, if you want a bird's eye view over the lobby, climbing to the top is where to get it.
The gleaming white reception area leads to a most dreamy frozen forest lounge where you can take tea and or enjoy a tipple bar area. By sheer contrast, the hi-tech lifts are decorated with mosaics depicting Islamic symbols.
Who for
If you are a fan of the whimsical wrapped up in luxury, this hotel has it. It has its serious side too, with a business centre and a reliable wi-fi throughout, and with plenty of service and amenities and attentive staff.
Accommodation
There's also two celebrity chef restaurants — Wolfgang Puck's CUT, great for steaks, and a Japanese outlet by Iron chef Masaharu Morimoto called Morimoto Doha, which serves fabulous sushi. I dined here one night in its gloriously plush, dimly lit environment, enjoying beautifully presented sushi and seafood.
Facilities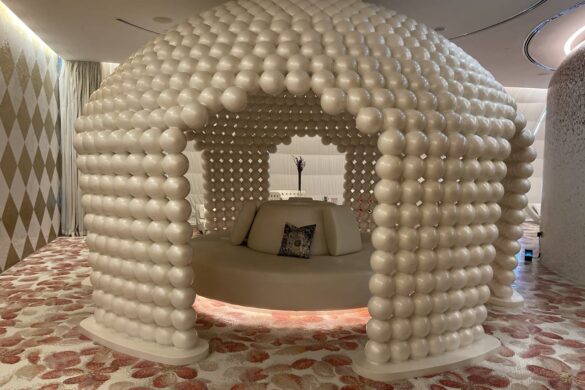 The Espa spa is a beautiful space in gleaming shades of white with highly trained therapists across 12 treatment rooms. It also has Doha's only Turkish-style hammam, a heated experience garden,  several relaxation rooms, one with hanging half egg chairs amid hanging crystals, as well as a fully equipped gym.
How much:
Rooms at the Mondrian Doha start from QAR810 (£168) per night
What's Nearby?
The Mondrian Doha is around a half-hour drive from Hamad International Airport and is located in the West Bay Lagoon area, right next door to The Lagoona mall and by the Zig Zag Towers. The nearest metro, the Legtaifiya station, is a 10-minute walk.
VERDICT: I love the whimsical nature of the decor, the hints of Islamic lore and the sheer luxury of amenities, the gorgeous ESPA spa and the range of magnificent restaurants. Honestly, I could have spent a few days enjoying the hotel before even thinking of venturing out.
Getting there: Return flights from London to Doha with Qatar Airways from £686 (economy) and £3,868 (business) per person (prices based on travelling in January 2022) www.qatarairways.com
Credit: Source link