Part of the charm of Puglia is its slow approach to everyday life. Southern Italy's rising star has ancient farmland hemmed by a sun-bleached sandy coast and is where travellers come to escape the frenetic vibe of nearby Tuscany.
This year the region's beautiful range of private villas, many with private pools and always with gorgeous views, will be particularly popular, as it allows social distancing without compromising on the joy of travel.
Professional holiday rental companies, including Puglia Paradise, have implemented advanced anti-covid protocols to safely host guests.
So what does this beautiful region have to offer? Here are our top ten suggestions:
7.
Alberobello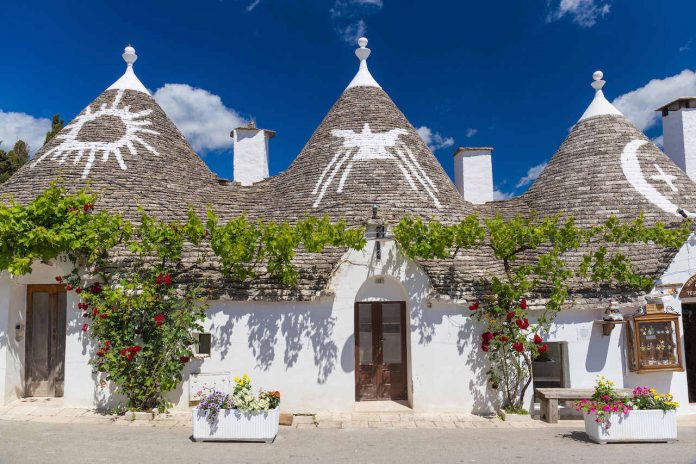 Alberobello is a fairytale UNESCO World Heritage town made of 1,500 Trulli (typical Apulian conical stone huts). It is boty unique and enchanting place, and though a little touristy it is definitely worth a visit.
Most of the Trulli here have been transformed into souvenir shops, cafes, restaurants, but some of them (in less crowded areas of the town) are real homes where people still live.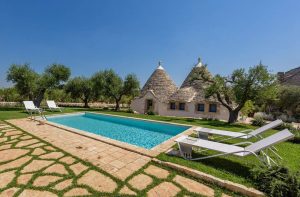 You can stay in one of the authentic Trulli, such as Trullo Atena, a hidden gem that combines the tradition of a historic Trullo with the comforts of modern living.
Although it feels secluded this Trullo lies within an easy walk or drive of Alberobello. Enjoy soaking up the sunshine beside your private pool and relaxing in the shady gazebo.
8.
Lecce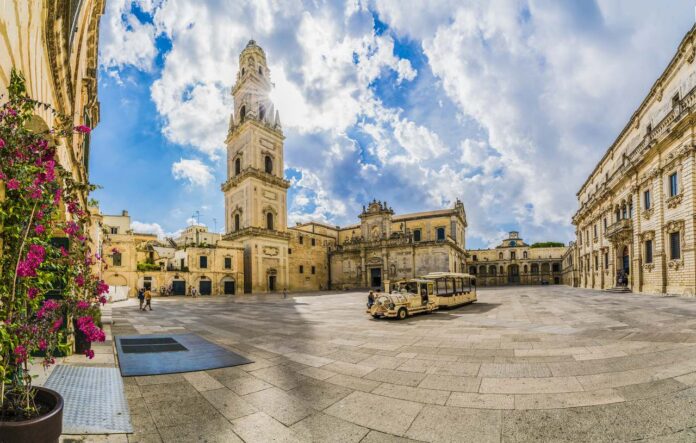 Called the Florence of the south, Lecce is one of Puglia's largest cities. It is known for its baroque architecture with more than 40 churches and at least as many noble palazzi built or renovated between 17th and 18th century. The magnificent result is that it has one of the most unified urban landscapes in Italy.
The streets are always alive with young people drinking in cafes, families out for a stroll and groups of friends enjoying gelato or street food.
TIP: Don't miss the Pasticciotto (typical cake of Lecce) at Pasticceria Alvino in piazza Sant'Oronzo, and Caffè in ghiaccio con latte di mandorla (ice coffee with almond syrup).
9.
Otranto
Otranto is Italy's easternmost town. It offers a mix of history, architecture, beautiful views, sea-front restaurants and white sandy beaches.
Sitting right on the Adriatic sea, in front of the Balkans and Greece, its strategic position has profoundly influenced its history. The imposing castle and towers dominate much of the town, surrounded by thick perimeter walls that give way to a small port and lovely sea-front promenades dotted with excellent fish restaurants.
The delightful Romanesque cathedral, dating back to 1088 with unique 12th-century floor mosaics, is another highlight not to be missed.
TIP: Though the town has its own beautiful white sandy beach with turquoise waters, make a little time to find the Alimini beach, part of a marine protected area. This is a long beach with white sand dunes and rich Mediterranean vegetation.
More about Puglia Paradise
Puglia Paradise is a leading villa rental company in Puglia providing villas and trulli with private pools for rent. Villas are managed exclusively by Puglia Paradise, and each booking includes a personal concierge service, or "Guest Angel", to welcome you and assist with practical issues and offer tips on things to see and do, where to eat, local markets and the best local products shops.
Villas will be available to rent from April 2021 and prices start from €180 per night (minimum 5 nights).
---